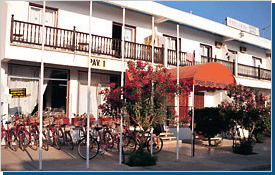 Pavlinia Hotel Apts (Koutsou holidays apts) is a complex of apartments at the center of the popular holiday resort Ayia Napa. It is one of the oldest established hotel apts in the village. Therefore the experienced management provides the service and hospitality needed for an unforgettable holiday.
The Pavlinia Hotel Apts are popular within young people in June,July and August.
During spring and autumn young children enjoy swimming in the children's pool.